What's great about having such a diverse and talented bunch of folks working at the Studio, is we all have our own specialties. We thought we'd take a moment to talk about some of our favorite knit and crochet projects:
Custom Fitting Sweaters – Patty
Pattern: Short & Chic Cardi
Yarn: Nature's Choice Organic Cotton ; color: Khaki
Studio Class: Design Your Own Sweater, or Sweater School
When I first started knitting sweaters, I just tried to pick the size that fit me the best and followed the pattern word for word. Little by little I got brave enough to start adapting sweaters to fit me better . . . maybe I'll make the sleeves longer, maybe I'll try making the body longer. Eventually I started experimenting even more, adding side shaping, changing a neckline etc. This sparked my interest in sweater design. Now I still use patterns, but I throw out everything that doesn't suit me and use only what I like. In my Design Your Own Sweater workshop I teach how you can use your key body measurements (and a little math) to get your perfect fit. Pictured is the Short & Chic Cardi, I used double stranded Nature's Choice Organic Cotton, changed the length of the body & changed the width of the ribbing.
Magic Loop – Will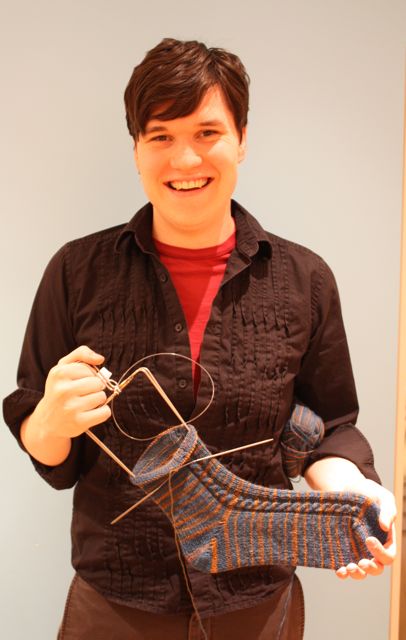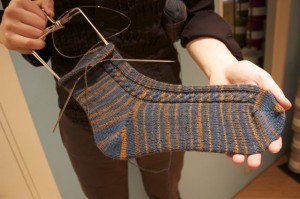 Pattern: Will's own design
Yarn: Sock-Ease ; color: Taffy
Studio Class: Socks on Magic Loop
When I first learned to make socks my aunt taught me with double pointed needles and I really struggled with it. After hours of trying I finally decided that socks just weren't for me. Several years later while working in a yarn store a fellow yarnoholic showed me the magic loop technique. I couldn't believe how easy it looked! That night I went home and started a sock that was to become the first in a successfully completed pair. I have since become comfortable with dpns, but more often than not I use magic loop because I love it so much.
Cables – Michelle
Pattern: Habitat by Jared Flood
Yarn: Wool-Ease ; color: Zinnia
Studio Class: Intro to Cables

Pattern: Flourish Vest, Knit Scene, Fall 2009
Yarn: Wool-Ease ; color: Loden
Studio Class: Intro to Cables, or Sweater School
Even before I was a knitter, I loved the look of cables in knitting. The beautiful twisting braids and intricate knot-work fascinated me, but no matter how hard I stared I couldn't seem to figure out how they were accomplished. Then I picked up a fingerless glove pattern with a climbing ivy design that I HAD to make. I followed the instructions line by line, and slowly the pattern came to life. I never imagined how easy it would be. Now I can't go a couple of projects without doing some kind of cable pattern. I even learned to cable without a cable needle, and I never looked back!
Working in the Round – Claire
No Pattern
Yarn: Cotton-Ease ; color: Charcoal
Studio Class: Intro to Knitting in the Round
I honestly can't remember the details of the first project I knit in the round, though I am sure it was a hat! Hats are the perfect intro to knitting in the round – not too big, you can use just one skein, and you can customize them to your heart's delight! Over the years I have probably made at least a hundred hats for myself and others. Several Christmases in a row all my friends received multi-striped hats that were the result of me using up odds and ends, and now I'm working on spreading my love of berets! Of course knitting in the round is good for much more than hats. I've also used this technique to make mittens and socks, and over the summer I completed my first sweater in the round! I love that there is no pesky switching of needles, and if I need to stop in the middle of a row, I can just push the work down the needle and be on the way!  I'm currently making a summer cowl for my trip to Stitches West!
Twisted German Cast on Mittens – Celia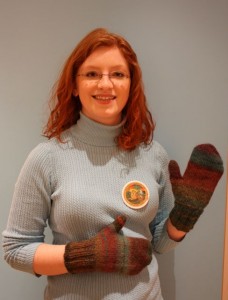 No pattern
Yarn: Amazing ; color: Arcadia
Studio Class: My First Mittens
While I enjoy working on challenging projects with lots of charts and precise planning, I also like to have a simpler, portable piece to knit during subway rides and other spare moments throughout the day. I whipped up these mittens (in Lion Brand's new "Amazing" yarn) late last week to ward off the chill from NYC's latest cold snap. I used the Twisted German Cast-On for the cuffs, which is a nice, stretchy variation of the Long-Tail Cast-On…it's fun to do and is a technique I use often!
Illusion Knitting – Gina
| | |
| --- | --- |
| | |
| (Looks like plain stripes.) | (The secret picture hidden in the stripes!) |
Pattern: Dark Mark Illusion Scarf
Yarn: Wool-Ease ; colors: Black & Blue Heather
Studio Class: Beginning Knitting (Really! It's just knits and purls)
I've been a hard-core crocheter since I was five, but I've always had an on-again, off-again relationship with knitting. When I picked it back up as an adult, I wanted to make something that was unique yet simple, and so a friend recommended illusion knitting for scarves. It's a very simple technique – uses only knits and purls – and creates a hidden design that only pops out when you hold the garment at a certain angle. I started looking for patterns online and settled on a Dark Mark design (Harry Potter geek and proud of it), then whipped one up. It wasn't the best-looking thing – my knitting skills have vastly improved since then – but the illusion looked so cool I've loved it and the technique ever since.
On The Go Knitting – Kendra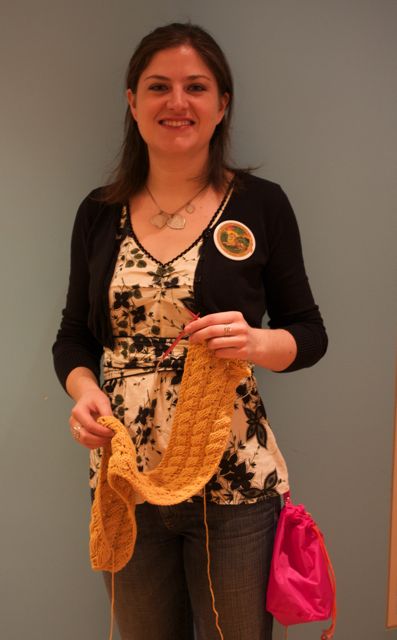 Pattern: Cabled Lace Scarf
Yarn: Cotton-Ease ; color: Maize
Studio Class: Intro to Cables
I moved to New York from California, where getting around means driving and a complete waste of transit knitting time as far as I'm concerned! Now living in New York, my favorite thing is to utilize any bit of my commuting time by knitting & crocheting, so projects that can be moved from purse to purse are my favorite type of knitting. For me, this means projects on circular needles or double-points that fit nicely in a small bag (like the Go Knit Pouch pictured above) – lots of mittens, scarves, beverage cozies and socks. We all know the irritation of an express train running local or a sick passenger announcement, but for me I just think, "Great, more knitting time!"
Cowls and Fair Isle – Vanessa
No pattern
Yarn: LB Collection Baby Alpaca ; colors: Natural & Silver Grey Heather
Studio Class: Intro to Knitting in the Round, and Intro to Fair Isle
I discovered cowls a couple years ago as a fun and simple alternative to scarves. I liked how they are so much more compact then scarves – they are just as warm without the long, dangly ends. They are also generally worked up much faster and give you a chance to try out new stitches and yarns without feeling obligated to finish a large project. I've started putting my textile design experience to good use and designing fair isles to incorporate into cowls. I love being able to design little motifs and use several colors in one piece, and cowls are a perfect place to use color work!