I'm working on a lace topped cardi in Recycled Cotton .  I was trying to get it finished for a trip I have coming up, so machine knitting to the rescue.  What?  Machine knitting?  That's cheating (I hear you all thinking).  Nah, it's just using the machine to get through the 8″ of stockinette so I can enjoy hand knitting the lace.  Besides, machine knitting is an art in itself.  You can do cables, fair isle, lace, all sorts of amazing things on the machine.  This, however is a tale of the joy of stockinette.
So here's my plan.  Cast on my hand knitting needles & knit 4 rows of K1, P1 rib, then transfer the work to the machine, knocking out 8″ of stockinette, back to my needles and sit back and enjoy my lace.
My journey starts:
Step 1 – Wind my yarn into cakes.  This is needed for a smooth feed onto the machine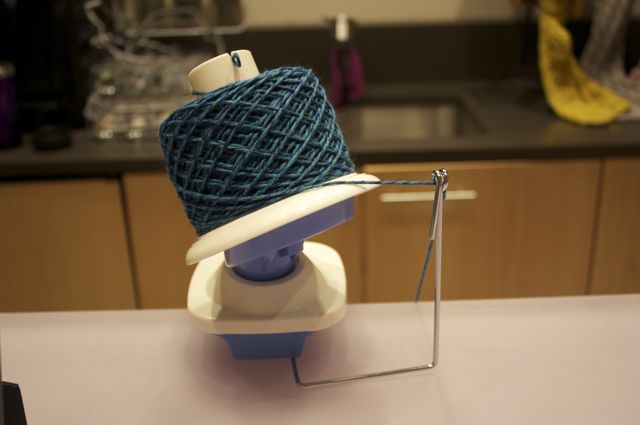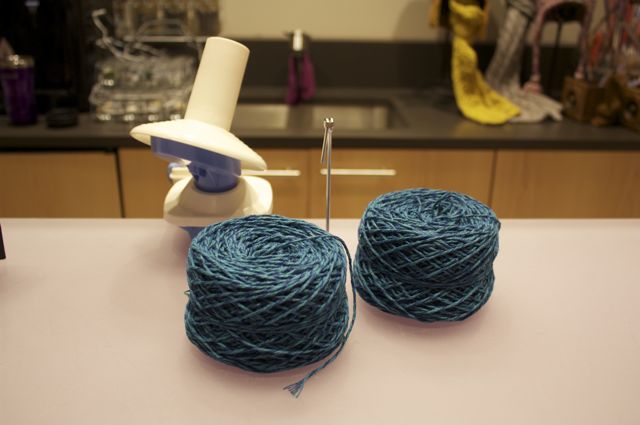 Step 2 – Gauge swatch.  YES you must gauge swatch.  To the left of the picture is my hand knit swatch.  I tried US 8, and then tried it on a US 7.  I decided I like the swatch on the US 8.  Now I knew what I wanted the machine to match.  The swatch to the right of the picture is my machine knit swatch.  Now I know my machine carriage setting is 6 to get 17 stitches per 4 inch.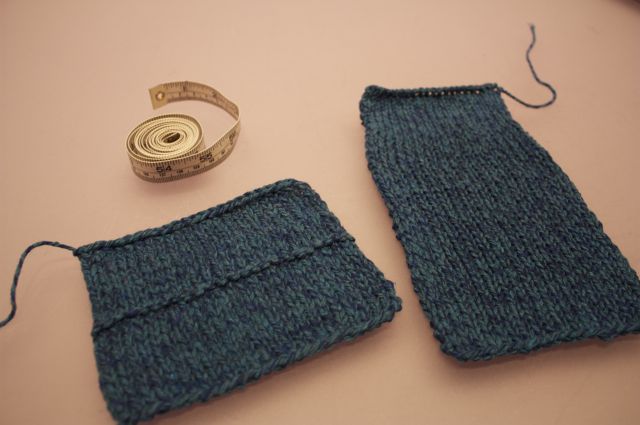 Now the fun begins.  Okay, let's time me:
9:30 am – transfer my hand knit piece to the machine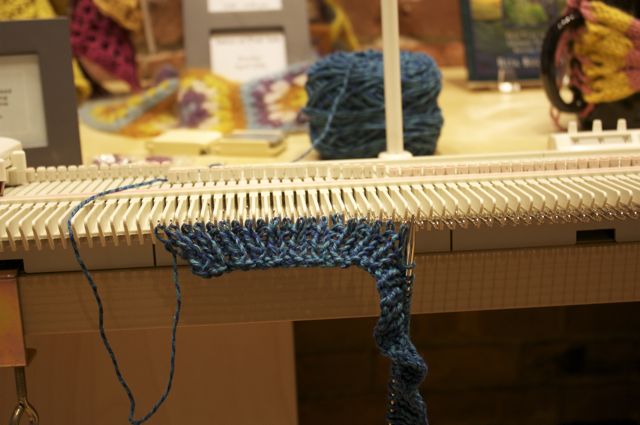 9:32 am – start knitting, hang my weight after 2 rows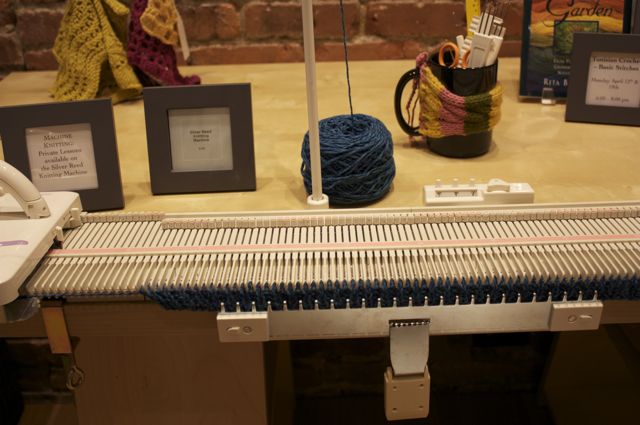 9:32:30 sec – move my weight up after 12 rows are done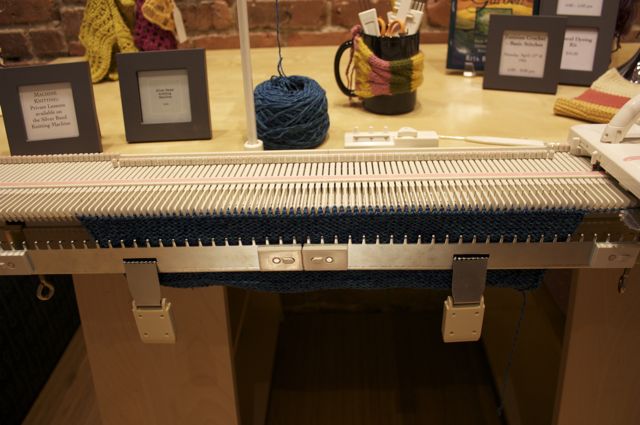 9:34 am – 45 rows / 8″ of stockinette DONE!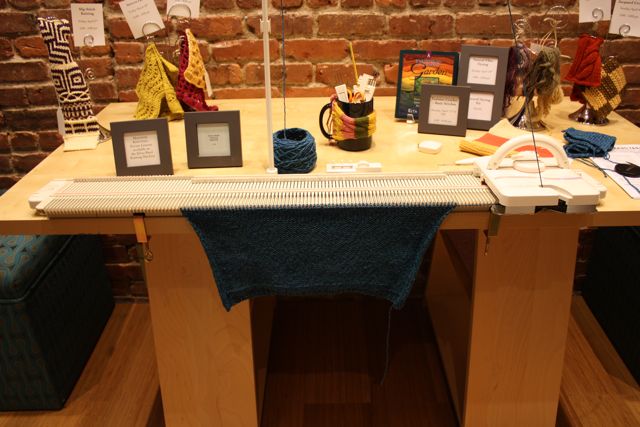 9:35 am – transferred back onto my hand knitting needles, double check stitch and row gauge. Perfect!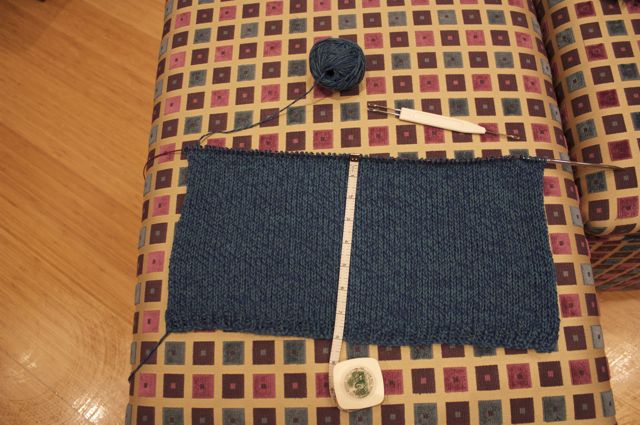 9:40 am – did the same for my cardi left front.  There were two rows where the gauge got a little tight (you can see it in the picture as a little line across the work).  This was from the yarn getting a little caught up in the tensioned.  This will block out so I'm not concerned.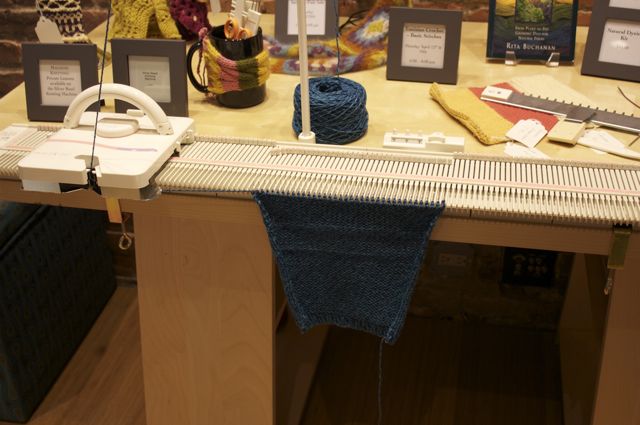 9:42 am (TWELVE MINUTES FROM THE TIME I STARTED!!!) – the back of the cardi and one front are all done with stockinette.  Now I get to hand knit the lace top.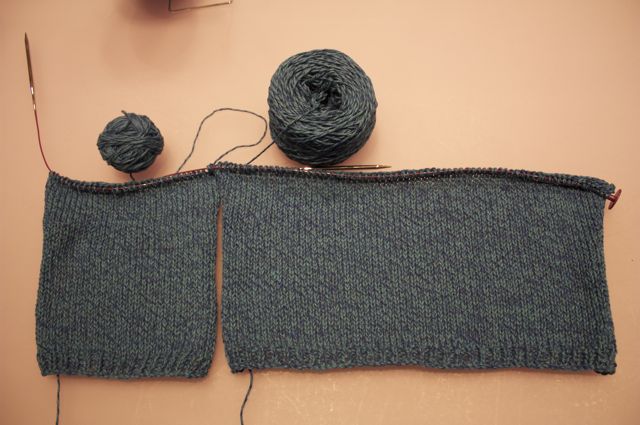 So next time you are doing a hand knit pattern and you reach the part where it says "and now knit 8 " of stockinette" and you are feeling itchy to get to the "fun part", remember your friend the knitting machine !
If you want a demo, come by the Studio.  You can also book a private lesson on the machine by calling 212-243-9070.